Cody L. Cofer | Board Certified Criminal Law
Texas Board of Legal Specialization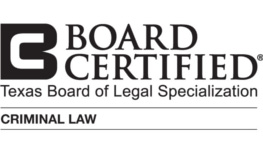 We are proud to announce that managing trial attorney, Cody Cofer, is now board certified by the Texas Board of Legal Specialization in Criminal Law. Cody is the only attorney to obtain certification in Tarrant County in 2013. The certification process started in early 2013 with submission of a comprehensive application documenting the extensive trial experience and appellate experience. The Board also requires references from attorneys and judges that are familiar with the quality of representation Cody provides. In October, Cody sat for the day-long exam designed to evaluate a well developed understanding of criminal law. You can view the Standards for Attorney Certification.
The Texas State Bar established the Texas Board of Legal Specialization (TBLS) in 1974 to "promote the availability, accessibility and quality of the services of attorneys to the public in particular areas of the law… and advance the standards of the legal profession." The Supreme Court of Texas has jurisdiction over the organization. There are 21 select areas of law that an attorney can specialize in. No organization other than TBLS is authorized to provide this service to the citizens of Texas.
The Board Certification process has stringent and ongoing requirements for certification. An attorney seeking certification must:
have been in practice a minimum of five years with three years of substantial involvement in an area of law,
complete TBLS-approved Continuing Legal Education course requirements,
furnish at least 10 qualified, vetted references,
provide extensive, relevant experience documentation and
pass a comprehensive, daylong, specialty area examination.