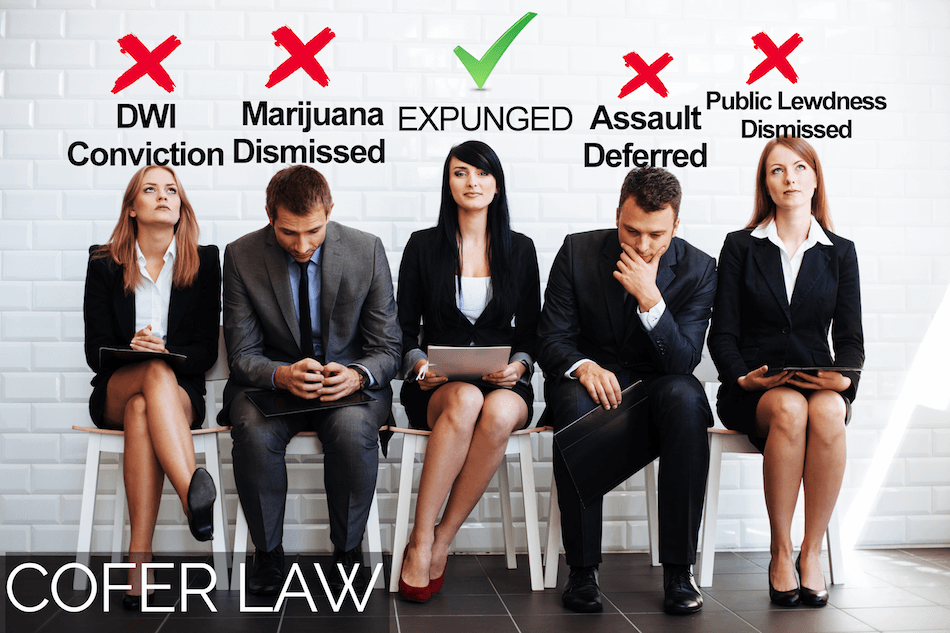 What does a background check show with an
Order of Non-Disclosure?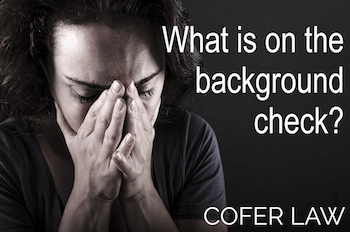 First, the area of expunctions and non-disclosures can be complicated, and our memories often do not retain the important things our lawyers tell us. So, before you answer any questions about your criminal history on a job application (or other application), you need to speak with a criminal defense attorney. The last thing you want is to fail to disclose something you were supposed to or disclose something you didn't have to.
When people's criminal cases are dismissed, they often do not completely understand their lawyers explanation about the impact on their criminal record. If you case was dismissed, but you never went back to court to have the record expunged or an order of non-disclosure signed, then the record of your arrest and court proceeding is still public. This means the large companies that gather information for background checks will likely have your criminal history information. If a prospective employer runs a background check and you have provided information that conflicts with what they find, then your chances of getting the job are very slim. Usually, you won't even get a call or meeting to explain the discrepancy.
Job Interview with an Order of Non-Disclosure
If you were placed on deferred adjudication AND you went BACK to court and the judge granted an order of non-disclosure THEN you do not have to disclose information about your criminal history to prospective employers. Someone who has their criminal history record information sealed with an order of non-disclosure of criminal history record information issued under the Texas Government Code is not required in any application for employment, information, or licensing to state that the person has been the subject of any criminal proceeding related to the information that is the subject of the order.
A Few Warnings
First, although you do not have to disclose this information to licensing agencies, you need to review whether the licensing agency can see your criminal history on a state or federal background check. There is a long list of Texas licenses that allow the governing body to see "non-disclosed" offenses.
Second, do not be confused because your lawyer simply told you that your charge "would not be on your record." Often this is a misunderstanding at the time of a plea bargain or dismissal. If you received deferred adjudication probation, then you do not have a conviction on your record. This does not mean the arrest, court, and probation records are not open to the public. Only an expunction or order of nondisclosure destroys or hides your records (unless you are a juvenile).
Court Records After an Order of Non-Disclosure
The court and police cannot disclose to the public any information contained in the court or police records if the information is subject to an order of nondisclosure of criminal history record information under the Government Code. However, the court or police may disclose this information (even with an order of non-disclosure) to:
A criminal justice agency if the agency is using the information for criminal justice or licensing purposes;
You. The court can disclose your criminal record information to you;
The big one! A list of agencies found in the Government Code (411.0765).
These Gov't Code 411 Agencies are:
State Board for Educator Certification;
Public or private schools;
Commercial transportation company;
Education shared service arrangement;
Texas Medical Board;
Texas School for the Blind and Visually Impaired;
Board of Law Examiners;
State Bar of Texas;
Texas School for the Deaf;
Department of Family and Protective Services;
Texas Juvenile Justice Department;
Department of Assistive and Rehabilitative Services;
Department of State Health Services
Local mental health and disability services providers;
Texas Private Security Board;
Municipal or volunteer fire department;
Texas Board of Nursing;
A safe house providing shelter to children in harmful situations;
Public or nonprofit hospitals or hospital districts;
Financial regulatory and banking commissioners
Texas State Board of Public Accountancy;
Texas Department of Licensing and Regulation;
Health and Human Services Commission;
Department of Aging and Disability Services;
Texas Education Agency;
Judicial Branch Certification Commission;
A county clerk's office when someone is applying for guardianship of another;
Department of Information Resources (only regarding an employee, applicant for employment, contractor, subcontractor, intern, or volunteer);
Texas Department of Insurance;
Teacher Retirement System of Texas;
Texas State Board of Pharmacy;
Financial institutions screening employees, contractors, etc.; and
Employers screening employees that handle hazardous materials.
An order of non-disclosure does not protect certain information. Specifically, criminal history record information in:
Materials used for identifying or apprehending fugitives or wanted persons;
Call sheets and 911 calls, along with any other original records maintained by a police agency compiled chronologically and required by law or long-standing practice to be available to the public;
Public judicial, administrative, or legislative proceedings;
A record made of the actual court proceedings, like the Court Reporter's record;
Published court or administrative opinions; and
Announcements of clemency granted by the Governor's Office.
Understanding whether your criminal history is public record
As you can see, there are A LOT of exceptions to the protections of an order of non-disclosure. This is why you really need to seek the opinion and advice of a criminal defense attorney before you begin answering questions about your criminal history. This is an area of law that can be confusing even to lawyers. If you contact our office, we will schedule a time to meet with you, investigate your records, and provide the best plan for cleaning up your criminal history.
To better understand the exceptions,
you need to know a few definitions:
Criminal History Record Information is information collected about you by a "criminal justice agency" that includes any identifiable descriptions and notations of arrests, brief detentions, charging instruments, and other formal criminal charges.
This term doesn't include certain identification information, such as fingerprint records – so long as the identification records do not also have information about your involvement in the criminal justice system. It also does not include certain parts of your driving record.
A Criminal Justice Agency is either a federal or state organization that engages in administration of criminal justice under a law or executive order. This is generally determined to how the agencies budget is allocated. These agencies also include nongovernmental railroad or campus police departments that obtain an originating agency identifier from the Federal Bureau of Investigation.
For criminal justice purpose means any activity involving the administration of criminal justice; or screening of people applying for jobs with criminal justice agencies.