Fort Worth Criminal Attorney
Resources for Trial and Appeal
Cofer Law, P.C.300 Throckmorton StreetSuite 500Fort Worth, TX 76102
Real Trial Expertise. Proven trial performance.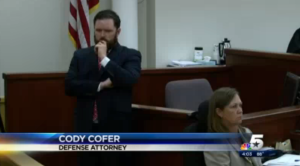 When your freedom is in jeopardy, you want the best trained and most experienced trial lawyer. Cody's training for the courtroom began long before he ever handled his first case. From the start of law school, he dedicated his efforts to trial advocacy winning numerous awards for his skills including the J. Hadley Edgar Excellence Award, the American Jurisprudence Award and graduating Order of the Barrister.
Before Cody began fighting for the rights of the accused, he gained invaluable experience and knowledge working as a prosecutor. Cody chose to work as a prosecutor to gain insight into how the prosecution thinks and how they prepare for trial. This experience allowed Cody to develop high level trial skills quickly by trying numerous cases. Once Cody felt he had learned what there was to know about the prosecution side, he chose to devote himself to criminal defense and help those accused of crimes.
Since opening his criminal defense firm, Cody has been asked to train other attorneys in criminal defense and he routinely speaks at conferences and seminars on his method of criminal defense. Cody has tried several high-profile cases and has been featured on the television programs 48 Hours and 20/20 for his defense work.