Fort Worth & Tarrant County Criminal Case Help
Cofer Law, P.C.300 Throckmorton StreetSuite 500Fort Worth, TX 76102
Service Providers for Criminal Cases
Criminal Case Questions
Batterer's Intervention Classes
Batterers' Intervention Program (BIP) is a program that we often ask our clients to attend, usually as part of our strategy in a domestic violence case. Voluntarily participating in BIP can play a vital role in negotiating a positive outcome in your assault family violence case. Involvement in the BIP program shows the prosecutor that the your are taking the charge and situation seriously. The content and activities in BIP provide at least some assurance to the prosecutor that the alleged violent behavior won't happen again. BIP is usually an 18 week program.
Anger Control Classes
As part of our strategy for domestic violence or other assault cases we will often ask our clients to enroll in an Anger Control Class. Anger is a healthy emotion, but is not as easily controlled by all people resulting in relationship and health issues. Anger Control Classes are designed to give our client's an understanding of the source of their anger and how to manage it. This shows the prosecutors or jurors that you are proactive and regardless of how you find yourself charged with a criminal case, you are willing to take action to get your life back on track.
DWI Education Classes
DWI Education Classes are used part of our strategy for Driving While Intoxicated cases. For first time offenders we ask that clients complete the basic 12 hour course. We ask that clients accused of DWI Misdemeanor Repetition (Second DWI) or DWI with BAC 0.15 or Higher take the DWI Repeat Offender Course. The goal of these classes help attendees understand the risk of DWI and provide alternative strategies to getting behind the wheel drunk. It is important to understand that by taking this course you are not admitting guilt, you are just being proactive in your case!
Texas Drug Offender Education Program
If you are facing a drug related charge, as part of our strategy we may ask you to take TXDOEP. This is a typical 10-12 hour course designed to help educate on drugs and their consequences. We will also ask any client who has been accused of a drug related crime to complete 3 CLEAN Urinalysis Tests. We ask this in order to give our clients a chance to show the courts that they are capable of removing drugs from their lives and that they are not dependent on drug use.
Substance Abuse Treatment
As our strategy for clients who are classified as repeat offenders or those who are charged with higher classified drug charges, we may ask that they undergo Substance Abuse Treatment. This shows the court that the client is aware that they may have a problem with substance abuse, but the client would like to get better.
Theft Intervention Program (TIPS)
For misdemeanor theft cases, such as shoplifting, we ask our clients to take the Theft Intervention Program. This is a relatively short class. Upon completion you get a certificate that you should provide to your attorney. Taking the Theft Intervention Class does not constitute an admission of guilt. Rather, it helps your attorney communicate to the prosecutor that you are taking your theft charge seriously, and taking TIPS shows you are proactive.
Community Service
In most criminal cases we will ask clients to take the proactive measure of doing community service. This does not mean that you are admitting guilt. Instead it shows the prosecutor that your are working to improve and be a more productive member of society. Some clients say that they do not have time for this part of the strategy. We cannot stress enough that your criminal case needs to be a top priority. Doing community service before your case is resolved likely saves you time and money in the long run. Listed below are some of the more common community service outlets.
Log for Community Service Hours

Family and Parenting Programs
As part of our strategy for domestic violence and family cases we often ask clients to enroll in a Family & Parenting Program, such as the Family First Program. This is designed to help build family communication, encourage positive family interaction, and create positive parenting skills. These programs show the prosecutor, the judge, and your family that you take being a positive member of your household seriously.
Sexual Case Treatment Providers
In many cases involving sexual allegations we have clients undergo psychological testing specifically related to sexual behavior and deviancy. If you are facing criminal charges for a sexual accusation you should not make arrangements for an assessment without first speaking to your lawyer. Statements that you make during evaluation or treatment can be used against you unless the sexual treatment provider has entered into an "agency agreement" as a part of your criminal defense team.
Polygrapher Information
Lie detector tests or polygraphs are not generally admissible in Texas criminal courts. However, polygraphs can be useful tools for treatment or preparing your case for presentation to a prosecutor or grand jury. Like other service providers, you should not contact a polygraph provider until you have spoken with your criminal defense attorney. Statements made during the exam or in the pre-testing interview can be used against you unless the polygraph provider has entered into an "agency agreement" as a part of your criminal defense team.
What is this "Strategy Letter"?
When is my next court date?
Where do I go for court?
The Tarrant County criminal courts are all located in the Tim Curry Criminal Justice Center located at 401 W. Belknap, Fort Worth, TX 76102. Find your court below to see the appropriate floor.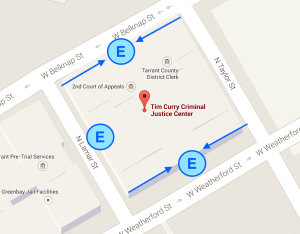 What is going to happen at court?
Should I bring witnesses to court?
When can I see the evidence?
How long will my case take to finish?
Will my case be on my record?
Listing of Licensed Offender Education Programs in Tarrant County

DWI Education Program
AMIGOS & ASSOCIATES: EDUCATION & COUNSELING
Address: 2373 SOUTH COLLINS, ARLINGTON, TX 76014
Phone:8178222345

DWI Education Program
ANIMO: EDUCATION & COUNSELING
Address: 990 NORTH COOPER STREET, ARLINGTON, TX 76011
Phone:8172743983

DWI Education Program
CENTER FOR THERAPEUTIC CHANGE
Address: 605 E BORDER STREET, ARLINGTON, TX 76010
Phone:8175489990

DWI Education Program
DALLAS SYMPOSIUM
Address: 1075 WET N WILD WAY, ARLINGTON, TX 76011
Phone:8177814909

DWI Education Program
NORTH TEXAS ADDICTION COUNSELING AND EDUCATION
Address: 124 W PIONEER PARKWAY STE 120, ARLINGTON, TX 76010
Phone:8177958278

Alcohol Education Program for Minors
ALCOHOL AWARENESS
Address: 4400 W ARKANSAS, ARLINGTON, TX 76016
Phone:8176549722

Alcohol Education Program for Minors
AMIGOS & ASSOCIATES: EDUCATION & COUNSELING
Address: 2373 SOUTH COLLINS STREET, ARLINGTON, TX 76014
Phone:8178222345

Alcohol Education Program for Minors
ANIMO: EDUCATION AND COUNSELING
Address: 990 N. COOPER, ARLINGTON, TX 76011
Phone:8172743983

Alcohol Education Program for Minors
L.I.V.E. DRUG AND ALCOHOL FREE
Address: 4000 W GREEN OAK BLVD, ARLINGTON, TX 76016
Phone:8172646048

Drug Offender Education Program
AMIGOS & ASSOCIATES: EDUCATION & COUNSELING
Address: 2373 SOUTH COLLINS STREET, ARLINGTON, TX 76014
Phone:8178222345

Drug Offender Education Program
ANIMO: EDUCATION & COUNSELING
Address: 990 N. COOPER, ARLINGTON, TX 76011
Phone:8172743983

Drug Offender Education Program
CENTER FOR THERAPEUTIC CHANGE, LTD.
Address: 605 E. BORDER STREET, ARLINGTON, TX 76010
Phone:8175489990

Drug Offender Education Program
DALLAS SYMPOSIUM
Address: 1075 WET N WILD WAY, ARLINGTON, TX 76011
Phone:8177814909

Drug Offender Education Program
NORTH TEXAS ADDICTION COUNSELING & EDUCATION
Address: 124 W. PIONEER PKWY., STE. 120, ARLINGTON, TX 76010
Phone:8177958278

Drug Offender Education Program
ON THE ROAD AGAIN
Address: 2373 SOUTH COLLINS, ARLINGTON, TX 76014
Phone:2149953222

Drug Offender Education Program
SUBSTANCE ABUSE PROGRAM
Address: 6043 W. INTERSTATE 20, ARLINGTON, TX 76017
Phone:8175330825

Drug Offender Education Program
SUBSTANCE ABUSE PROGRAM
Address: 6043 W. INTERSTATE 20, ARLINGTON, TX 76017
Phone:8175330825

DWI Education Program
DALLAS SYMPOSIUM
Address: 1800 AIRPORT FREEWAY, BEDFORD, TX 76022
Phone:8177814909

Drug Offender Education Program
DALLAS SYMPOSIUM
Address: 1800 AIRPORT FREEWAY, BEDFORD, TX 76022
Phone:8177814909

Alcohol Education Program for Minors
MADD NORTH TEXAS CHAPTER
Address: 1102 WEST EULESS BOULEVARD, EULESS, TX 76040
Phone:2146370372

DWI Education Program
A. L. TURNER ACADEMIC INTERVENTION
Address: 2000 BEACH STREET, FORT WORTH, TX 76103
Phone:8177734132

DWI Education Program
ADDICTIVE BEHAVIOR COUNSELING
Address: 3619 BYERS AVE., FORT WORTH, TX 76107
Phone:8172286261

DWI Education Program
ANIMO: EDUCATION & COUNSELING
Address: 4234 MCCART, FORT WORTH, TX 76115
Phone:8172743983

DWI Education Program
CENTER FOR THERAPEUTIC CHANGE
Address: 5801 WEST CURZON AVE STE 245, FORT WORTH, TX 76107
Phone:8175489990

DWI Education Program
CENTER FOR THERAPEUTIC CHANGE
Address: 6320 BRENTWOOD STAIR RD., FORT WORTH, TX 76112
Phone:8174469770

DWI Education Program
DALLAS SYMPOSIUM
Address: 3751 TANACROSS DR., FORT WORTH, TX 76137
Phone:8177814909

DWI Education Program
H.O.P.E. INC, TX DWI EDUCATION PROGRAM
Address: 605 E BERRY, FORT WORTH, TX 76110
Phone:8179275441

DWI Education Program
NORTH SIDE SERVICES-DWI ED. PROGRAM
Address: 2011 PROSPECT AVENUE, FORT WORTH, TX 76164
Phone:8172374188

DWI Education Program
OPPORTUNITIES COUNSELING CENTER – OPORTUNIDADES Y VALOR
Address: 601 UNIVERSITY DR., STE. 105, FORT WORTH, TX 76107
Phone:8178858300

DWI Education Program
RECOVERY RESOURCE COUNCIL
Address: 2700 AIRPORT FWY., FORT WORTH, TX 76111
Phone:8173326329

Alcohol Education Program for Minors
A. L. TURNER ACADEMIC INTERVENTION
Address: 2000 BEACH STREET, FORT WORTH, TX 76103
Phone:8177734132

Alcohol Education Program for Minors
ALIVE AND WELL ALCOHOL EDUCATION PROGRAM FOR MINORS
Address: 5225 NORTH BEACH STREET, FORT WORTH, TX 76137
Phone:8179447871

Alcohol Education Program for Minors
ANIMO: EDUCATION AND COUNSELING
Address: 4234 MCCART, FORT WORTH, TX 76115
Phone:8172743983

Alcohol Education Program for Minors
BETTER CHOICES ALCOHOL EDUCATION PROGRAM
Address: 1301 PENNSYLVANIA AVENUE, FORT WORTH, TX 76104
Phone:8172502000

Alcohol Education Program for Minors
MADD NORTH TEXAS CHAPTER
Address: 1888 GREEN OAKS ROAD, FORT WORTH, TX 76116
Phone:2146370372

Alcohol Education Program for Minors
OPPORTUNITIES COUNSELING CENTER
Address: 601 UNIVERSITY DRIVE SUITE 105, FORT WORTH, TX 76107
Phone:8173602983

Alcohol Education Program for Minors
TARRANT-JOHNSON COUNTY YOUTH OUTREACH
Address: 6530 WEST FREEWAY, FORT WORTH, TX 76116
Phone:8177148697

Drug Offender Education Program
A CHANCE FOR CHANGE
Address: 7525 JOHN T WHITE ROAD, FORT WORTH, TX 76120
Phone:8176893510

Drug Offender Education Program
A. L. TURNER ACADEMIC INTERVENTION
Address: 2000 BEACH STREET, FORT WORTH, TX 76103
Phone:8177734132

Drug Offender Education Program
ADDICTIVE BEHAVIOR COUNSELING
Address: 3619 BYERS AVE, FORT WORTH, TX 76107
Phone:8172286261

Drug Offender Education Program
ANIMO: EDUCATION & COUNSELING
Address: 4234 MCCART, FORT WORTH, TX 76115
Phone:8172743983

Drug Offender Education Program
CDX COUNSELING
Address: 6444 BRENTWOOD STAIR, FORT WORTH, TX 76112
Phone:2148158387

Drug Offender Education Program
CENTER FOR THERAPEUTIC CHANGE, LTD.
Address: 6320 BRENTWOOD STAIR ROAD, FORT WORTH, TX 76112
Phone:8175489990

Drug Offender Education Program
CENTER FOR THERAPEUTIC CHANGE, LTD.
Address: 5801 W CURZON, FORT WORTH, TX 76107
Phone:8175489990

Drug Offender Education Program
DALLAS SYMPOSIUM
Address: 3751 TANACROSS, FORT WORTH, TX 76137
Phone:8177814909

Drug Offender Education Program
DALLAS SYMPOSIUM
Address: 3628 MCCART, FORT WORTH, TX 76110
Phone:8177814909

Drug Offender Education Program
H.O.P.E. INC. DRUG OFFENDER EDUCATION PROGRAM
Address: 605 E BERRY ST, FORT WORTH, TX 76110
Phone:8179275441

Drug Offender Education Program
METROPOLITAN CENTER FOR COUNSELING AND PSYCHOTHERAPY
Address: 6737 BRENTWOOD STAIR ROAD STE 236, FORT WORTH, TX 76112
Phone:8174961961

Drug Offender Education Program
OPPORTUNITIES COUNSELING CENTER (OPORTUNIDADES Y VOLOR)
Address: 601 UNIVERSITY DR., STE. 105, FORT WORTH, TX 76107
Phone:8173602983

Drug Offender Education Program
RECOVERY RESOURCE COUNCIL
Address: 2700 AIRPORT FREEWAY, FORT WORTH, TX 76111
Phone:8173326329

Alcohol Education Program for Minors
OPPORTUNITIES COUNSELING CENTER
Address: 517 N. CARRIER PKWY., SUITE H, GRAND PRAIRIE, TX 75050
Phone:2147087779

Alcohol Education Program for Minors
TARRANT-JOHNSON COUNTY YOUTH OUTREACH
Address: 250 EAST HIGHWAY 114, GRAPEVINE, TX 76051
Phone:8177148697

DWI Education Program
ANIMO: EDUCATION & COUNSELING
Address: 4632 DENTON HIGHWAY, HALTOM CITY, TX 76117
Phone:8172743983

Alcohol Education Program for Minors
ANIMO: EDUCATION AND COUNSELING
Address: 4632 DENTON HWY, HALTOM CITY, TX 76117
Phone:8172743983

Drug Offender Education Program
ANIMO: EDUCATION & COUNSELING
Address: 4632 DENTON HWY, HALTOM CITY, TX 76117
Phone:8172743983

DWI Education Program
BEE SERVICES, INC.
Address: 1550 NOORWOOD DRIVE SUITE 104, HURST, TX 76054
Phone:2144585000

Alcohol Education Program for Minors
MADD NORTH TEXAS CHAPTER
Address: 330 RUFE SNOW DRIVE, KELLER, TX 76244
Phone:2146370372

DWI Education Program
SUBSTANCE ABUSE GUIDANCE AND EDUCATION
Address: 8401 JACKSBORO HIGHWAY, LAKESIDE, TX 76135
Phone:8172389911

Drug Offender Education Program
SUBSTANCE ABUSE GUIDANCE AND EDUCATION
Address: 8401 JACKSBORO HIGHWAY, LAKESIDE, TX 76135
Phone:8172389911