Lauren Crisera | Lawyer Profile
Fort Worth Criminal Attorney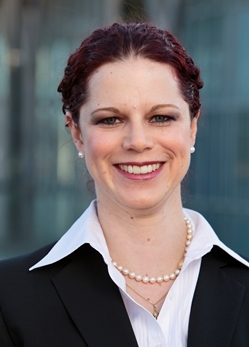 Criminal defense attorney, Lauren Crisera, has dedicated her career to fighting the government in criminal court. Before becoming a Fort Worth criminal attorney, Ms. Crisera was a Deputy State Public Defender for the State of Colorado. As a Public Defender Ms. Crisera gained extensive courtroom and trial experience. She discovered her passion for criminal law in law school. Her studies focuses on criminal law and developing her trial advocacy skills. As a student, she fought for clients with criminal charges as an intern for the Clark County (Las Vegas) Public Defender's Office and as a Student Attorney in the Criminal Law Clinic.
Lauren Crisera graduated Magna Cum Laude from Franklin Pierce Law Center (now University of New Hampshire School of Law). Her law school selected her to compete on the National Trial Competition Team. Her team's success at the National Trial Competition earned her the Howard James Nedved Commencement Award – for skills in trial advocacy. Ms. Crisera was one of few students in the inaugural class of Daniel Webster Scholars. This was the first program in the nation designed to make law students "client ready" upon graduation from law school.
The Fort Worth legal community has consistently selected Ms. Crisera as a Top Fort Worth Criminal Attorney as recognized in FW,TX Magazine.
Lauren's Philosophy
Lauren Crisera believes a caring attorney is the only way the criminally accused can receive the protections of the United States and Texas Constitutions.
Ms. Crisera takes a client centered approach to all cases, understanding the personal and collateral consequences these cases can have for her clients. She ensures that her clients have a realistic understanding of all their options to resolve their cases allowing them to make an informed the defense strategy.
Academic Education of Lauren Crisera
Franklin Pierce Law Center, Doctor of Jurisprudence
Magna Cum Laude;
Teaching Assistant Constitutional Law and Evidence;
Daniel Webster Scholar – competitively selected to participate in the first national honors program designed to make students client ready upon graduation;
National Trial Competition Team – competitively selected to represent the law school in National Trial Competition;
The Howard James Neded Commencement Award – award given to third-year law students for outstanding performance in the trial advocacy competition.
The Colorado College, Bachelor of Arts – Anthropology
Graduated with Distinction in Anthropology
Received H. Marie Wormington Award in Anthropology
Experience of Lauren Crisera
Fort Worth Criminal Attorney
Ms. Crisera represents clients accused of crimes in Texas courts. She helps connect clients with experts for counseling, evaluations, and other services which may aid in achieving the best possible case result. She assists in preparation of jury trials with a focus on punishment phases of trial work. We hope for a "not guilty" in every case, but Ms. Crisera tediously prepares a "safety net" for the punishment phase of trial.
Colorado State Public Defender's Office, Deputy State Public Defender
Ms. Crisera represented indigent clients in five counties for all levels of offenses – Class B misdemeanors to First Degree Felonies. She defended clients from arraignment and bond hearings to and through trial. Ms. Crisera was lead trial counsel for a long list of misdemeanor and felony jury trials. She worked with District Attorneys, probation and parole offices to carve our the best possible results for her clients. This included helping clients in find treatment options for mental health and substance abuse problems.
Legal Organizations and Bar Associations
State Bar of Texas
Texas Criminal Defense Lawyers Association
Tarrant County Criminal Defense Lawyers Association
Tarrant County Bar Association
Tarrant County Young Lawyers Association
American Bar Association
New Hampshire Bar Association
Fort Worth Office
300 Throckmorton Street
Suite 500
Fort Worth, TX 76102
Lauren Crisera | Criminal Attorney in Fort Worth
September 20, 2015