Cody L. Cofer, Attorney Profile
Fort Worth Criminal Defense Lawyer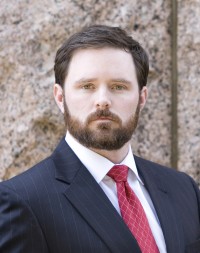 Cody Cofer works hard trying to be the best criminal defense lawyer. His practice is devoted entirely to defending people accused of crimes. He is Board Certified by the Texas Board of Legal Specialization in Criminal Law. Cody has received peer recognition for his success as an attorney including, recognition for his trial advocacy in The Voice for the Defense magazine published by the Texas Criminal Defense Lawyers Association, and as a "Top Attorney" in Criminal Law by Fort Worth, Texas Magazine. Cody primarily practices in Tarrant County, but is willing to take cases in surrounding counties. His office is located in downtown Fort Worth a few blocks from the Tim Curry Justice Building (housing the Tarrant County criminal courts).
Prior to opening his own office, Cody worked as a prosecutor. He prosecuted felony, misdemeanor, and juvenile cases. As a former prosecutor, he has a unique perspective on the interaction between defense attorneys and the government. He is a former member of the Texas District & County Attorneys Association (TDCAA). Because of his former prosecuting experience, Cody is able to strategically handle your criminal case from the date it's filed by the police. Cody has experience as an appellate attorney. He can take your case as far as it needs to go to protect you rights. He has had appellate success and the unique experience of arguing before the highest court in Texas.
He studied law at Texas Tech School of Law and excelled in the trial advocacy program. He won awards in national competitions and interscholastic competition for both, criminal and civil, mock trial. He was selected by his fellow student advocates to lead the trial advocacy program as the "Mock Trial Vice-Chair" for the Texas Tech Board of Barristers. The law school awarded the J. Hadley Edgar Excellence Award for his skills in trial advocacy and was awarded the American Jurisprudence Award for outstanding performance in trial advocacy. For his success in trial advocacy, Cody was selected to be a member of the Order of the Barristers.
Although, Cody has devoted much of his life to oral advocacy, Cody has a well-developed background. In addition to earning his Doctor of Jurisprudence from Texas Tech, he also earned his Masters of Business Administration from the Texas Tech School of Business. This provides invaluable perspective in divorce cases or prenuptial agreement drafting that involves business organizations. Although Cody considers himself a "courtroom" lawyer, he was selected to serve as an editor for the "Texas Administrative Law Journal" and received the American Jurisprudence Award for Research and Writing. Cody has briefed and argued novel issues addressing new points of law in the state's highest court. Cody has experience and success with misdemeanor and felony appeals.
Cody worked in the Texas Legislature for Senator Ken Armbrister in the 78th Legislative Session. Working to draft and pass laws has provided Cody with an in-depth understanding of the legal system. He was recognized by the Texas Senate for his contributions as a Bullock Scholar. Cody attended Baylor University earning a Bachelor of Arts in Speech Communication. He grew up in East Texas. He is a committed family man and has two younger sisters that he is proud of and close to. He has a beautiful wife, Erin, and they have an overly affectionate bird-dog, Rooster. Cody strives to maintain close relationships with his family and friends.
Learn more about the services offered by Cofer Law.
Summary
Cody L. Cofer is the lead Criminal Defense Attorney at Cofer Law. The office is located at 300 Throckmorton Street, Suite 500. There with Lauren Crisera, he practices exclusively criminal defense. Before he sat for the bar Cody Cofer attended Texas Tech School of Law. Since becoming a criminal defense lawyer he has become certified by the Texas Board of Legal Specialization in Criminal Law. He has been recognized as a Top Attorney by Fort Worth, Texas Magazine 2015 and a Super Lawyer Rising Star 2015 by Texas Monthly Magazine. You can reach Cody by calling 817.810.9395.