Packing Heat On Campus: Can I carry a gun on a college campus in Texas?
Shots rang out for 96 minutes, killing 16 and wounding more than 30. The day was August 1, 1966, where a student, 25-year-old Charles Whitman, engaged in a rifle-shooting spree from the top of the clock tower at the University of Texas in Austin. Now, exactly fifty years to the day, a new campus carry law will take effect on August 1, 2016, permitting students with a concealed handgun license (CHL) to carry guns on public Texas college and university campus grounds and buildings.
SB 11 – "Texas Campus Carry" Law
The new law will permit individuals who have obtained a CHL to carry their loaded, concealed weapon inside public college buildings. For private and independent colleges, the law gives them the option of opting out. Public colleges have no option, they must comply with the new law. However, university and college presidents are permitted to designate certain sections of their campuses as gun-free zones, but not the entire campus. According to the law, university officials can establish "reasonable rules," but states those regulations cannot "generally prohibit" license holders from carrying concealed handguns on campus.
Advocates
Gun rights advocates applaud this bill as a victory but is considered irresponsible and unneeded by numerous students and professors. Supporters say the intention of the law is to make college campuses safer by permitting students to defend themselves should a mass shooting occur, such as the one that occurred at Umpqua Community College on October 2, 2015, where ten people were killed.
Opponents
Opponents believe that students armed with guns would make a campus far more dangerous. They also raise a concern of increased security costs and the potential negative effect on recruiting out-of-state teachers and students. UT Butler School of Music staff recently voiced their protest to the new campus carry law. And hundreds of additional UT students protested by strapping gigantic swinging dildos to their backpacks…their mantra was #CocksNotGlocks.
Texas Joins a growing group
Texas will be one of eight states, and now the largest, to allow the carrying of concealed weapons on public college campuses. The other states are Colorado, Idaho, Kansas, Mississippi, Oregon, Utah and Wisconsin.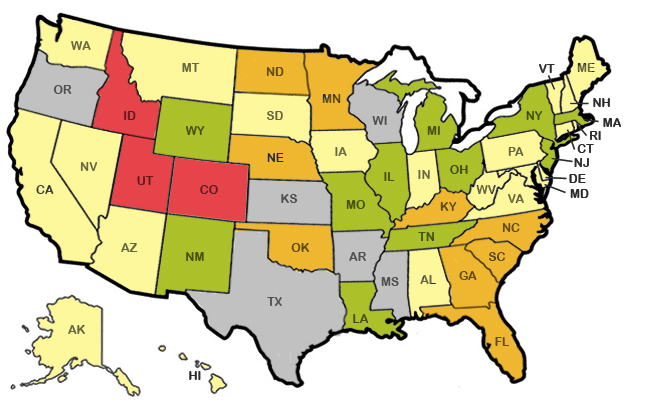 photo and data courtesy of armedcampuses.org
COLOR CODING KEY
RED = Concealed guns allowed by law
GREY = Concealed guns allowed by law, but schools limit locations/who carries
GREEN = Concealed guns on campus prohibited by law
YELLOW = Schools decide weapons policy
ORANGE = Concealed guns allowed only in locked cars in parking lots
EXCEPTION FOR GUNS IN VEHICLES
On June 14, 2013, Governor Perry signed into law SB 1907, which states…
that an institution of higher education or private or independent institution of higher education may not adopt or enforce any rule, regulation, or other provision or take any other action, including posting notice under Section 30.06, Penal Code, prohibiting or placing restrictions on the storage or transportation of a firearm or ammunition in a locked, privately owned or leased motor vehicle by a person, including a student enrolled at that institution, who holds a license to carry a concealed handgun and lawfully possesses the firearm or ammunition:
(1) on a street or driveway located on the campus of the institution; or
(2) in a parking lot, parking garage, or other parking area located on the campus of the institution.
We listened to you
On our Facebook page we conducted a poll to see where our FB community stands on the Texas campus carry law. We are still accepting votes, so if you would like to add your voice, click here to cast your vote. You may find the results of our poll below.